Karin Davidson's Matrix Reimprinting (DVDs & CD)
Karin Davidson's Matrix Reimprinting offer consists of 6 DVDs,1 CD with 6 mp3s and handouts, 2 online videos and 5 interview mp3's that will be of benefit to anyone wishing to clear painful past events, change negative patterns, and prevent and treat serious disease in their own life or with their clients.
The EFT revolution is spreading so fast that more and more people want to learn how they can use the power of EFT for themselves. Karin Davidson's purpose is to introduce you to the EFT and Matrix Reimprinting and its amazing results so you have the tools to continue on to achieve all your goals. Karin teaches all levels of EFT for self-help and practitioners; and she is currently the only certified Matrix Reimprinting Trainer in the US. She worked with EFT Master Karl Dawson during development of Matrix Reimprinting, and directs its movement in the United States. With decades in energy psychology, Karin has created over 100 video training DVDs for 28 of the 29 EFT Masters. She is also conducts workshops in motivation, team work, training, management, ethics, marketing and writing.
---
Matrix Reimprinting Program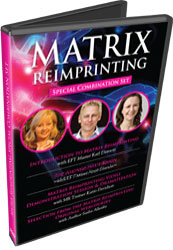 You will receive your DVD and CD in a multidisc package, your How To Tap DVD in a wrapped DVD case and links to your online videos and interview mp3's.

Over $400 of training and demonstration DVDs, MP3s, and handouts for only $97!
About Matrix Reimprinting… There is an amazing new self-help and healing technique that has been shown to help us achieve our goals and release the limiting beliefs of our past.
Matrix Reimprinting can help us all. It has evolved into an easy-to-understand, proven, and fast-acting technique which actually changes our perception of the past, releasing us from our negative patterns.
EFT is a popular self-help technique where we tune into a past event where we developed negative learning or have negative surrounding emotions – and as we tune in, we tap on specific acupressure points and this releases the negative emotions.
Over $400 of training and demonstration DVDs, MP3s, and handouts for only $97!
Sorry, this package is not available at this time.
---
Item #1 EFT Master Training (DVD) $34.95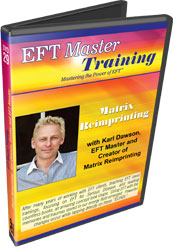 Introduction to Matrix Reimprinting with EFT Master Karl Dawson
Evolving from the popular self-help technique EFT (Emotional Freedom Techniques), Matrix Reimprinting is an exciting new technique that is effective in treating emotional and physical issues.
It can also be used to manifest your goals and dreams!
In Matrix Reimprinting we see past negative memories being held as pictures or holograms in your body-field. Until you transform them, you keep tuning into them on a subconscious level and they affect your health, your wellbeing and your point of attraction.
Changing the pictures creates both physical and emotional healing, and enables you to attract more positive experiences into your life. And by tapping on the meridians of the body at the same time, the process is accelerated.
The DVD features these chapters:
How It Began
The Matrix
ECHOs
The ECHO is the Client
Little Self/Now Self
It's not just Inner Child
Finding ECHOs
Full Resolution
---
Item #2 Five Interviews by Karin Davidson (MP3s) $25.00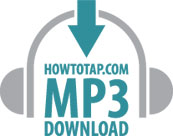 Includes 5 Interviews by Karin Davidson
1. Sex in the Matrix
Join me as I interview Sex in the Matrix specialist Alina Frank.
2. Why Matrix Reimprinting When you Have EFT
Interview with Ann Adams, former director of Gary Craig's EFT Masters program
3. Matrix Reimprinting for Weightloss
Join Dr. Carol Solomon and Matrix Reimprinting trainer Karin Davidson to explore how this new technique can help people who want to lose weight.
4. Even Dr. Pat Carrington Isn't Perfect
Dr. Pat Carrington is well known in the Meditation field, the EFT field and more. You would think after all she's been through and accomplished that she would be perfect by now… think again.
5. Lack of Motivation at the Gym
Greg Livernois begins his interview called "Confessions of a Handyman" and soon moves to his motivation issue. After Matrix Reimprinting, Greg can't wait to use different workout equipment at the gym.
---
Item #3 Tap Along with Karin – Special Tap Alongs Set $29.95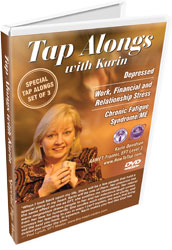 "In contrast to the usual Tap Along, where an expert leads you by being a teacher demonstrating the tapping spots as they give you phrases that you are to repeat – Karin's bring you directly into the experience itself – you and she share it together even though she also plays teacher at times (very unobtrusively actually acting more as a friend than a teacher. Also, unlike tapping demos where you stand apart and watch a practitioner tap on (or with) a demo subject – Karin's videos allow you to experience her as both teacher and demo subject at the same time. This draws you into the experience so powerfully that you feel the emotion and are even encouraged to feel the resistance to the process as well – you are fully in it with her." – Dr. Pat Carrington, EFT Master
Tap Alongs for Not Good Enough and Depression contents:
I'm Not Good Enough
I'm Not Good Enough Past Event Release
I'm Depressed
Tap Alongs for Work, Financial and Relationship Stress contents:
Releasing the Past
Financial Stress
Work Stress
Attracting the Perfect Partner
I'm Unappreciated
Tap Alongs for Chronic Illness, CFS/ME contents:
Nothing works
I'm Alone
It's my Enemy
---
Item #4 How To Tap – Intro to Meridian Tapping Techniques: EFT, Talk & Tap, Color of Pain, Matrix Reimprinting $24.99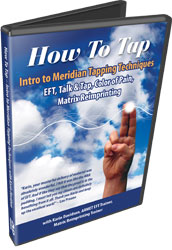 With Karin Davidson, AAMET EFT Trainer, Matrix Reimprinting Trainer
Trainer and practitioner Karin Davidson guides you through this comprehensive beginner's guide to tapping on your own to resolve emotional issues, feel better, ease pain, attract abundance and live a happier life through the use of Meridian Tapping Techniques. "How to Tap" introduces you to some of the top of these breakthrough techniques and how they can be used to benefit your life, overcome obstacles to success, deal with physical issues, and resolve emotional pain. Recorded as a step-by-step guide, complete with tap-alongs, demonstration examples, and everything you need to utilize these proven self-help techniques, "How to Tap" is a must-have resource for anyone wishing to get a quick and effective grasp on using this relief technique in their own life.
Including:
Basic EFT – Emotional Freedom Technique – tapping points and tools
EFT's Personal Peace Procedure
EFT's Movie Technique with a self-help example
A demonstration of the technique with EFT Master Nancy Gnecco
Introduction and example of EFT Master Paul Lynch's Color of Pain
Learn the easy and useful technique "Tap and Talk" with a Continuous Tapping Demonstration by EFT Master Gwyneth Moss
Learn EFT Master Karl Dawson's Matrix Reimprinting with a guided self-help session and demonstration
---
Item #5 Matrix Reimprinting Training Demo & Dramatization (DVD) $35.00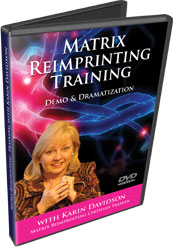 With Matrix Reimprinting Trainer Karin Davidson
This DVD will show you a full Matrix Reimprinting session along with a fun dramatization of how to look at Matrix Reimprinting through role play.
Matrix Reimprinting has grown into a whole host of exciting protocols, including ones which can transform:
Addictions
Phobias
Allergies
Negative core-beliefs
Birth traumas
Relationships issues
… and many more!
You can even work with past-lives and future selves, and also enhance your work with the Law of Attraction.
Matrix Reimprinting also goes hand in hand with other healing modalities such as life coaching, hypnotherapy, counseling, psychotherapy, all types of bodywork and energy work, and so on. Whatever techniques you use in your practice, having a tool that helps you to quickly transform life traumas enables the body to return from a state of stress so that healing can take place.
However, you don't need to be a practitioner to benefit from Matrix Reimprinting. It is a tool that can be self-applied and you can learn to use it on yourself to release emotional and physical issues, and to enhance your life situation.
Whatever you situation in life, this cutting-edge therapy can support your personal transformation.
---
Item #6 Matrix Reimprinting Original Webcourses (CD) $240.00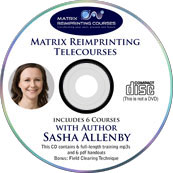 No longer sold!
Selection, with author Sasha Allenby
CD containing MP3 files and handouts.
Included in this collection:
The Matrix/Matrix Scene Reimprinting
The Bodymind/Matrix Memory Reimprinting
Stress, Trauma & Disease/Core-Belief Reimprinting
Birth Reimprinting Additional Session with Sharon King
Morphic Fields and Resonance/Addictions
Open Topic/Past Life and Future Self Reimprinting
Plus, you'll receive this additional information:
A detailed introduction to Matrix Reimprinting
Instructions on using these techniques on yourself and others
The science behind Matrix Reimprinting and why it works
Live demonstrations of Matrix Reimprinting in action
A different webinar theme each mp3, giving you a wide variety of Matrix Reimprinting applications
Guest appearances from leaders in the field of Matrix Reimprinting
---
Item #7 Little Ralph (Video) $15.00
Matrix Reimprinting session: Little Ralph colors his drawing.
Little Ralph colors his drawing and everyone misunderstands! Matrix Reimprinting solves the problem.
---
Item #8 Matrix Reimprinting (Video) $10.00
Includes a video with Karin Davidson of Matrix ECHOS, Trauma Capsules and the Difference between EFT and MR.
---
Sorry, this package is not available at this time.