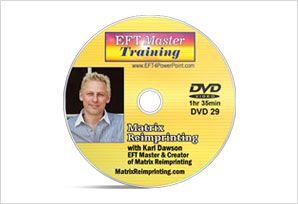 Item #1 EFT Master Training (DVD) $34.95
Introduction to Matrix Reimprinting with EFT Master Karl Dawson
Evolving from the popular self-help technique EFT (Emotional Freedom Techniques), Matrix Reimprinting is an exciting new technique that is effective in treating emotional and physical issues.
It can also be used to manifest your goals and dreams!
In Matrix Reimprinting we see past negative memories being held as pictures or holograms in your body-field. Until you transform them, you keep tuning into them on a subconscious level and they affect your health, your wellbeing and your point of attraction.
Changing the pictures creates both physical and emotional healing, and enables you to attract more positive experiences into your life. And by tapping on the meridians of the body at the same time, the process is accelerated.
The DVD features these chapters:
How It Began
The Matrix
ECHOs
The ECHO is the Client
Little Self/Now Self
It's not just Inner Child
Finding ECHOs
Full Resolution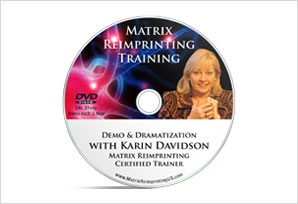 Item #2 Matrix Reimprinting Training Demo & Dramatization (DVD) $35.00
With Matrix Reimprinting Trainer Karin Davidson
This DVD will show you a full Matrix Reimprinting session along with a fun dramatization of how to look at Matrix Reimprinting through role play.
Matrix Reimprinting has grown into a whole host of exciting protocols, including ones which can transform:
Addictions
Phobias
Allergies
Negative core-beliefs
Birth traumas
Relationships issues
… and many more!
You can even work with past-lives and future selves, and also enhance your work with the Law of Attraction.
Matrix Reimprinting also goes hand in hand with other healing modalities such as life coaching, hypnotherapy, counseling, psychotherapy, all types of bodywork and energy work, and so on. Whatever techniques you use in your practice, having a tool that helps you to quickly transform life traumas enables the body to return from a state of stress so that healing can take place.
However, you don't need to be a practitioner to benefit from Matrix Reimprinting. It is a tool that can be self-applied and you can learn to use it on yourself to release emotional and physical issues, and to enhance your life situation.
Whatever you situation in life, this cutting-edge therapy can support your personal transformation.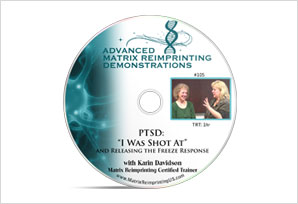 Item #3 "I was shot at" PTSD and Releasing The Freeze Response
Ever since the event, Linda has been unable to watch movies with loud sounds, watch the news, and sleep peaceably. She was diagnosed with Post Traumatic Stress Disorder. In one session of Matrix Reimprinting, she no longer has any symptoms.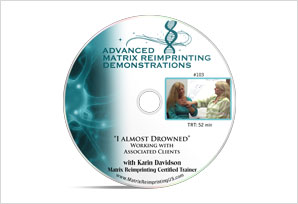 Item #4 "I almost drowned DVD" Working with Highly Associated Clients
Diane was pulled under the water by an anchor line. As she waited for someone to rescue her, she looked up and saw her 11-year-old son watching her "drown."  The thought of her son having to watch his mother drown has plagued her for over 20 years. This event was so traumatic that no one spoke about what happened from the time she was rescued until now, 20 years later. In Matrix Reimprinting, dissociation from the event allows the work to flow more smoothly and easily. However, many clients, especially those new to Matrix Reimprinting associate easily to their feelings in a highly traumatic event. This DVD will also demonstrate a variety of methods to keep Diane dissociated.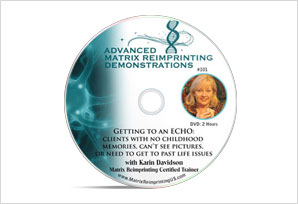 Item #5 "Getting to the ECHO" Working with Clients who don't have memories or can't see pictures
This 1.5 hour training and demonstration shows how you can find and work with ECHOs (traumatic memories) with people who:
Don't have clear or any memories of childhood
Can't see pictures
Can't access events in their childhood
Have a difficult time finding where issues began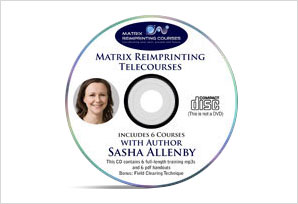 Item #6 Matrix Reimprinting Original Webcourses (CD) $240.00
No longer sold!
Selection, with author Sasha Allenby
CD containing MP3 files and handouts.
Included in this collection:
The Matrix/Matrix Scene Reimprinting
The Bodymind/Matrix Memory Reimprinting
Stress, Trauma & Disease/Core-Belief Reimprinting
Birth Reimprinting Additional Session with Sharon King
Morphic Fields and Resonance/Addictions
Open Topic/Past Life and Future Self Reimprinting
Plus, you'll receive this additional information:
A detailed introduction to Matrix Reimprinting
Instructions on using these techniques on yourself and others
The science behind Matrix Reimprinting and why it works
Live demonstrations of Matrix Reimprinting in action
A different webinar theme each mp3, giving you a wide variety of Matrix Reimprinting applications
Guest appearances from leaders in the field of Matrix Reimprinting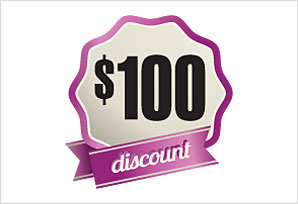 Item #7 $100 off any upcoming workshop in 2013
Learn Matrix Reimprinting and become certified in this advanced EFT technique! Next workshops are in Nashville.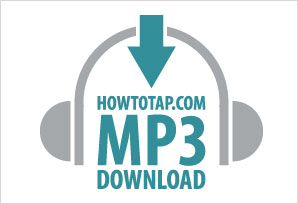 Item #8 Six Interviews by Karin Davidson (MP3s)
Includes 6 Interviews by Karin Davidson
Sex in the Matrix – Join me as I interview Sex in the Matrix specialist Alina Frank.
Why Matrix Reimprinting When you Have EFT – Interview with Ann Adams, former director of Gary Craig's EFT Masters program
Matrix Reimprinting for Weightloss – Join Dr. Carol Solomon and Matrix Reimprinting trainer Karin Davidson to explore how this new technique can help people who want to lose weight.
Traditional Therapy and Matrix Reimprinting – Is it possible for a successful licensed mental health professional to incorporate Matrix Reimprinting? Find out from Vicki Steine, a Licensed Clinical Social Worker with more than sixteen years' experience.
Pick a Disease – We'll Tell You What Trauma Caused It! – Stress causes disease; we all know that. Did you know there is a method to precisely find what kind of trauma caused a particular disease? Find out how disease is created, how to diagnose the underlying problem and how to clear the issues.
Lack of Motivation at the Gym – Karin Davidson interviews Greg Levernois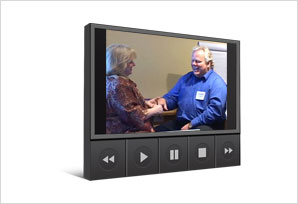 Item #9 Little Ralph (Video)
Includes a video with Karin Davidson.
Little Ralph colors his drawing and everyone misunderstands! Matrix Reimprinting solves the problem.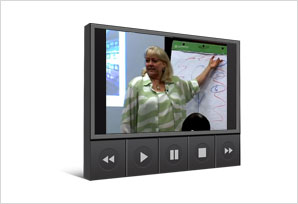 Item #10 Matrix Reimprinting (Video)
Includes a video with Karin Davidson of Matrix ECHOS, Trauma Capsules and the Difference between EFT and MR.